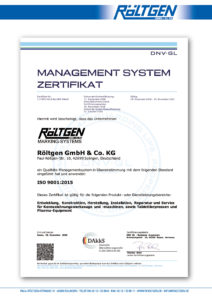 Since September 2000 the company Roeltgen GmbH & Co. KG is certified according to ISO 9001. Roeltgen counts in this matter on a worldwide known accreditation office: the DNV Business Assurance. The holding company Det Norske Veritas (DNV) was founded in 1864 as a trust in Oslo and established its reputation on reliable ship ratings. Its object of a company is the protection of life, property and environment.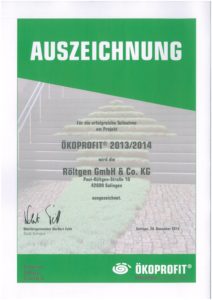 ÖkoProfit is a project sponsored by the ministry of the environment of the province North Rhine-Westphalia for small and mid-sized companies. It should support these companies to reduce their consumption of valuable resources and working expenses. So the companies can save their money enduringly and the workplaces for a long time.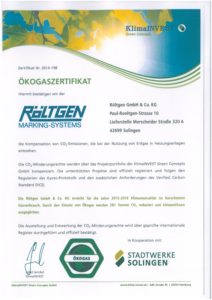 Beginning 1st January 2015 Röltgen GmbH & Co. KG will heat carbon neutral. The used gas to heat our buildings will be compensated through the project portfolio of the company KlimaINVEST Green Concepts GmbH. This is another step into sustainability and the respectful handling of our environment.