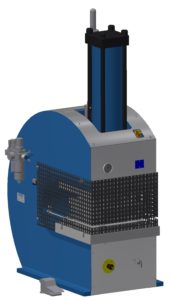 The pneumatic-hydraulic stamping press from Röltgen GmbH & Co. KG is available in five different designs. The largest of these has a compressive force of 50 tonnes and weighs 787 kg. These presses, which are equipped with two-hand controls as standard, require an air pressure of just 6 bar.
The use of air ensures quick travel. Thanks to their curved shape, the Röltgen presses not only look good but also have a larger radius, making it easier to stamp large work pieces. Depending on customer requirements, Röltgen also designs and develops special-purpose machines. In January 2016 for example an Estonia-based company approached Röltgen with just such a special request.
The company has been developing and producing exhaust systems and exhaust system components for roughly 30 years. In order to produce these exhaust systems, sheet-metal housing panels are shaped and stamped. The sheets need to be shaped during the stamping process.
The specification from the customer in this case was that the logo was to be 200 mm x 300 mm in size. In addition, the customer expressed the desire for a foot pedal to enable the sheets to be held in place when operating the press. In order for a press with a foot pedal to be approved by the employers' liability insurance association, we had to ensure there was no danger of an operator getting their hands caught in the press. The press bound for Estonia was therefore fitted with a protective enclosure. Röltgen